The next ISMRM Benelux Chapter will be held at the Stadsgehoorzaal in Leiden!
Click here to download the final program!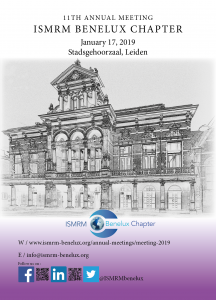 The aim of the annual ISMRM Benelux meeting is to stimulate young researchers active in the exciting field of MR in Medicine. On the one hand, we offer junior researchers an opportunity to present their work to a critical audience, while on the other hand more experienced researchers are given the chance to chair a session and review abstracts.
With over 320 participants during the 2018 meeting, the meeting is the perfect occasion to get into contact with many researchers working with MR in the Benelux. We hope that this will once more lead to stimulating ideas and new collaborations!
During this 1-day meeting junior researchers will get the opportunity to present their work in oral and poster presentations to a diverse and expert audience. The coffee and lunch breaks are the perfect opportunities to socialize with colleagues in the 'MR in medicine' field or to visit one of the sponsor stands.
We hope to welcome you at our 2019 meeting!
Best regards
The Organising Committee of the ISMRM Benelux Chapter Meeting 2019
The Benelux Chapter of the International Society for Magnetic Resonance in Medicine (ISMRM) was founded in 2008. The aim of the Benelux chapter is to provide a platform for MRI scientists in the Benelux to discuss their research and to stimulate the application of MRI in the Benelux. To this end each year a scientific meeting is organized. The chapter also supports focus meetings on specific MR topics. Finally, the chapter organizes social events to stimulate the interactions between its members.