Autoworld is located in the European District of Brussels and easy accessible by public transport. Below you can find an overview of the possibilities to reach us

By train
Station Merode (350m)
Station Shuman (750m)
Brussels Centrale (3,5km)

By metro or tram
Tram Merode (350m) line 81 & 83
Metro Merode (350m) line 1 & 5
Metro Shuman (750m) line 1 & 5

By bus
Merode (350m) STIB Line 22-27-61-80
Shuman (750m) STIB line 12-21-22-36-60-79
Nerviërslaan (200m) TEC
A car-free Parc du Cinquantenaire
Autoworld is located in the beautiful Parc du Cinquantenaire (French) or Jubelpark (Dutch). To protect the historical character of the park and enjoy an undisturbed view of the monumental triumphal arch, it is prohibited to park your car on the Esplanade next to the museum, with exception of disabled people and suppliers. Disabled visitors and suppliers can access the site through the barrier (Renaissancelaan) and park in front of the museum in the spots reserved for them.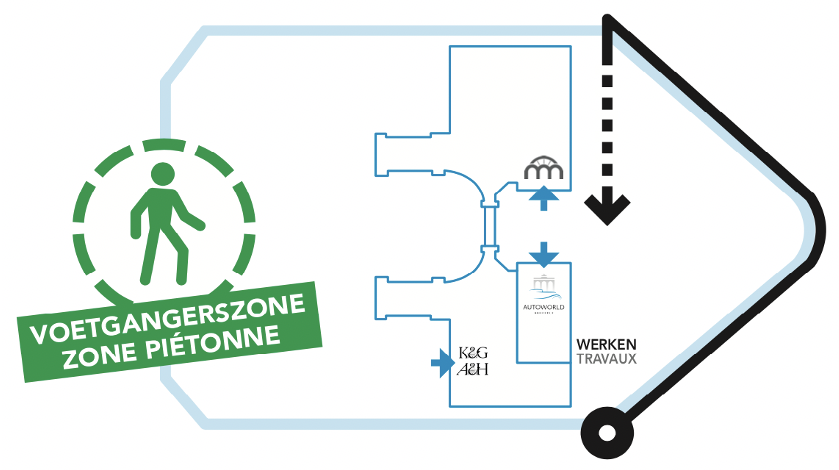 By car
Have a free seat or are you looking for one?
Where to park?
Arround the park and surrounding streets (paying)
Public parking 'Rue des Tongres' – 650m
Public parking 'My park' Rue Ménapiens – 850m
Low emmission zone (LEZ) in Brussels
The Brussels-Capital Region is a Low Emission Zone (LEZ), which means it's an area where the most polluting vehicles are prohibited from travelling. You can check if your vehicle meets the access criteria on www.lez.brussels. If that's not the case, you can buy a day pass for non-compliant vehicles or use one of the many transport services in Brussels. If your vehicle is registered in another country than Belgium, you are legally obliged to register your automobile without cost in order to access the LEZ freely. All information can be found on www.lez.brussels.